After a morning of classic waves at North Narrabeen the Southend team finally hit the water in the last heat of the day at 3pm. Gone were the perfect lefts and right the early heats had enjoyed. It was back to the stock standard summer fare we are more use to. Howling NE and a dropping swell. Despite the conditions the team started well and at the the mid-point of the heat we were right in the mix and only 5 points off the lead. As the heat progressed the swell became more and more inconsistent so finding the waves that had good scoring potential were few and far between.
With 10 to go Bronte were well out in front and we
were still in with a shot at 2nd as no teams 5th surfer had hit the water yet. So the last few minute was a mad scramble for all teams. Unfortunately the boys didn't make it through. A few little errors by the lads on their power waves and then Wez getting a screamer 5 seconds after the buzzer might have seen the boy's sneak through in 2nd but it was not to be. The format is very unique and the pressure on each of the surfers is enormous but the young guys handled it really well and surfed great. I am sure the Karl, Joey and Semo learnt a lot from the experience.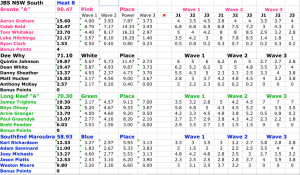 It was a great day up at Narra and it was good seeing Southend competing at a team's event again. Bring on the Kirra Teams event in March
For pics of the day checkout our Facebook page