The guys from Surfcomp have developed a cool App and from this Saturday's comp this App will be your one stop shop for all Southend club contest information.
Members will be able to pre-register for events, and everyone will be able to watch live scoring during the event, live contest schedule and contest results on their iPhone or iPads.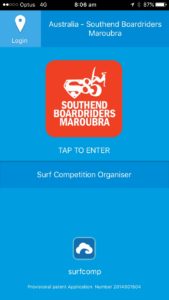 Shortly all members will receive an SMS which will have your personal activation code. That code will allow you to log into the app and register for this Saturdays Comp. You will also be able to update your profile and have a look around at the other cool feature in the App. In the meantime go to the App store Search "Surfcomp" and download the app.
Once you have downloaded the App and received your activation SMS
1/ Login
2/ Set Country – Australia
3/ set Club – Southend Boardriders Maroubra
4/ Click on Club Member -> enter your activation code -> Connect
5/ "Tap logo to Enter" and in you go
For those of you who don't have an iPhone (an update is coming for Andriod users) or just like to do things the old school way contest check in is still available at the beach on Saturday.