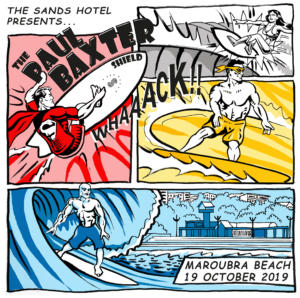 With the 2019 pointscore series done and dusted for another season we will finish off 2019 with the running of the 28th Edition of Sands Hotels Paul Baxter Shield. This is a tag-team event that will run on 19th October at Maroubra Beach and the event is held in memory of a great man and great friend to many of the older crew Paul Baxter. An absolute legend and free spirit.
This event is open to anyone in the community who wants to come along and enjoy the fun. Entry is $40 and that gets you entry into one of the 4 teams, breaky, lunch, beers and soft drink for those U/18 and a chance, if you're on the winning team, to have your name etched into local surfing history on the board at the Sands Hotel. Spots are limited and filling fast (only 20 left). So get in quick. To enter jump onto LiveHeats https://liveheats.com/southendboardriders
The weather looks epic and at this stage a fun little south swell will be running.
Format – Each surfer will surf a 15 min heat and a tag team heat to round out the surfing day. First heat in the water from 8.30am. And yes the specialty events are back. There are a few hectic and possibly life threatening challenges on the cards for this year. Don't say you haven't been warned.
This years theme – come dressed as your favourite Superhero or Comic Book hero. Some great prizes for best dressed at the beach.
The guys from Feedbag will be providing us with lunch and for those lucky few the mystery meal for the first non surfing challenge of the day. We also have resident DJ and hip hop star Stuboi 2000 throwing down some tunes for us all day long.
Julio and the crew from Softlite will again be providing competitors with a stack of boards to use on the day. Thanks legends.
To top off the day we will head back to the Sands Hotel where we will enjoy some refreshments and announce the winning team.
So if you haven't already done so jump online and join in on the funnest, most loosest event of the year.