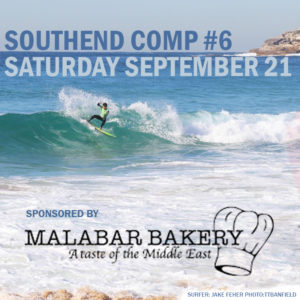 Just a quick reminder that the Malabar Bakery Southend Comp #6 is on Tomorrow Saturday September 21st. This will be our last pointscore event for 2019 and the forecast looks great. 3-4ft ENE swell and light NE winds. It will be a corker of a day with temp expected to reach 25 degrees.
First heat of the day will be Junior Boys, in the water at 7:30am sharp. The rest of the heats will be drawn up on Saturday morning at the beach. So please get down there early so you don't miss out.
Micros – Meet at the tent at 9.45am. 1st heat will be in the water at 10.00am.
The hot food and drinks on the day are of course provided courtesy of our great friends at Malabar Bakery, so feel free to come down early to get the Bacon & Eggs hot off the BBQ courtesy of our gourmet chefs & (remember to bring your own cup).
Reminder: To register and surf on Saturday, make sure you jump online to www.liveheats.com/southendboardriders. Cut-off for sign in is 7am Saturday and all heats will be drawn on Liveheats soon after. Keep an eye on Liveheats to check your heat times throughout the day and of course the Southend Instagram and Facebook to see where we are surfing and for any last minute updates.
Huge thanks to Malabar Bakery their generous support of community grass roots surfing. If you are after a taste of the middle east then make sure you drop into their shop over in 1209 Anzac Pde Malabar. They have the most amazing lunchtime specials (the Assyrian meatballs are the best thing you will ever eat), pizza, wraps, coffee and unbelievable range of delicious sweets. Give them a follow on FB https://www.facebook.com/Malabar-Bakery-355628848365135/ and on Insta @malabarbakery2036. And if you are snapping any shots of the kids on the day for Instagram, include #malabarbakery
This will be our final pointscore event for 2019. Our next event on the 19th October is the Paul Baxter Shield. Yes it is back. This is an open event for the entire community in memory of a club legend who tragically passed away nearly 30 year ago. Softlite will again be sponsoring the event and will provide us with plenty of boards to use on the day. More info coming soon.
See you tomorrow!
Southend