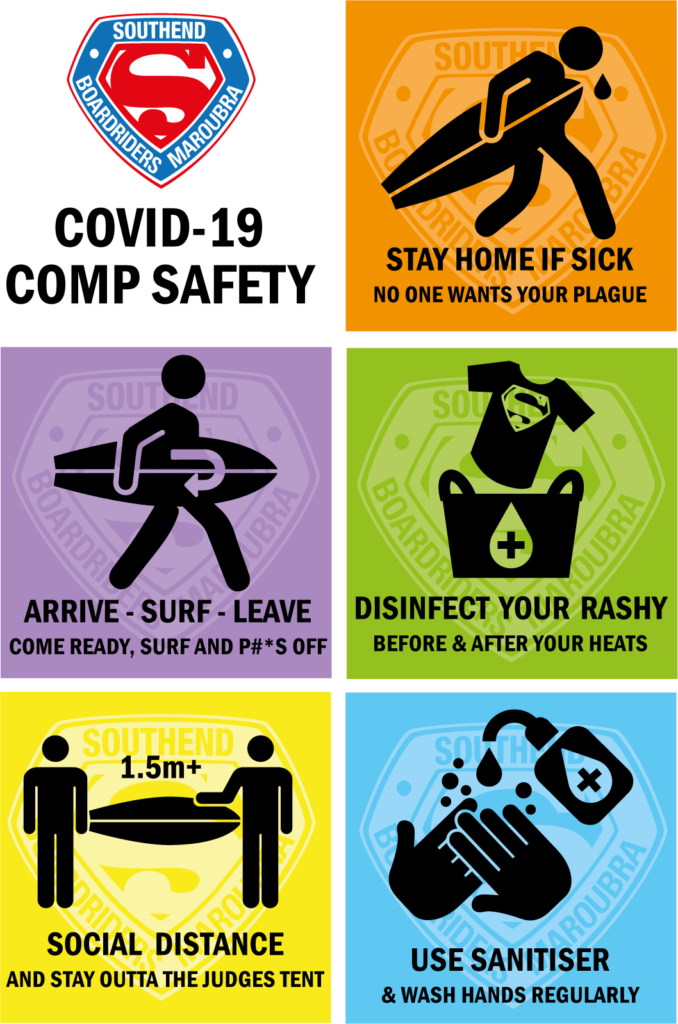 Finally…. This Saturday is the first comp of the 2020 Southend Boardriders comp season and we are expecting epic conditions. Swell is foretasted to be a solid 6ft early with offshore winds expected all day. The swell will drop throughout the day and hopefully will still have a good size for the young cadets to show us their talent later in the day.
Usually, we would be starting off a post like this with "yeeeeew, let's get ready party people!" …. But no… you actually need to stay away – unless of course you are signed up to surf and ready to rip some solid waves at this first club comp of the 2020 season.
Seriously though, unless you are actually a competing athlete, or their parent or carer, or a judge, or those two Statler & Waldorf blokes on our BBQ, you'll need to stay away and watch the surfers ripping waves from afar, as we need to be 100% COVID safe.
That means the following rules are in place:
Only surfers, their parent/carer and comp officials can be at the competition site
Stay socially distanced (1.5 metres away from others and 4 sqm per person), don't hang around pestering people and stay out of the judge's tent
Stay home if you are sick, don't 'soldier on'
Wash your hands, sanitise them and stop picking your nose
Come down ready to surf in your heats and then leave (either with a pep in your step or with a tail between your legs)
Disinfect your Rashy at the beach marshal tent before and after your heat
We have a COVID safety plan lodged and approved with Randwick council and will have sanitiser and other infection risk controls in place on the day to make sure that Maroubra Beach doesn't become the next Casula Crossroads.
The heat draw is set and published at www.LiveHeats.com/southendboardiders and there are no more sign ups or beach entries on the day for this comp. We will be surfing each division all in one block, and couple of divisions will be surfed in the O&E two round format. The first crew up will be the Opens' A Grade in water at 7:45am.
We would like to give a big shout out to our major sponsors who have stuck solid during these tough times. A massive thanks to Maroubra Surf and Skate and Juniors at Malabar for their ongoing support this year (and in many years previous) – we simply can't keep running these events for the community without the generous support of businesses like these two, so please go and spend some money with them to repay the love they have, and continue to, show for all of us in the local surfing community.