Comp number 2 for the Southend boardriders 2020 season is on this Saturday the 29th of August. It is looking like there will be great conditions on Saturday with a medium southerly swell running and a balmy 23C sunny day with light winds.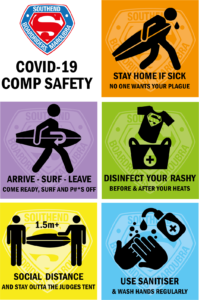 Once again in this COVID environment we need to request that only competitors (and one parent/carer) is at the beach, particularly in and around the competition area, and all of the same COVID control measures that we had at the last comp will also apply for this comp.  
For this next comp, we will be running a different competition format for most divisions; rather than the old skool knockout format will be implementing the Ocean & Earth "everyone surfs twice" format, with a division final determined by the top scores from two rounds of surfing. 
We'd really like to thank Maroubra Surf & Skate for their ongoing support of Southend Boardriders and local surfers at Maroubra – so a big shout out to Craig, Suzy and all of the team down there! For all of you that are looking forward to getting back in the water after a cold winter or gearing up for that Spring just around the corner, please get down to see them for some great deals. 
the competition is open now at www.liveheats.com/southendboardriders  – make sure you go along to register to surf and we'll draw the on Thursday evening at 8pm.  
Have fun, stay safe, get pitted