Any of you who happened to be at a pub for the recent Rugby World cup final would have probably have been reminded first-hand of the venom that any and all proud kiwi's hold in their 'all-black' hearts for their closest and most hated rival, Australia. And as we all know, it's not just a grievance isolated to rugby, it transcends all sports and most other endeavours at which our two nations meet and compete. Yet born of this potent rivalry, which is just as strong in the opposite direction across the Tasman, came the strength of camaraderie and brotherhood embodied by the ANZACs of 100 years ago. The long and short of it is that while we may be rivals close to home, when we leave our shores and take on the world, we become Antipodean comrades in pursuit of a common goal and would prefer no other friend in the bunker alongside us.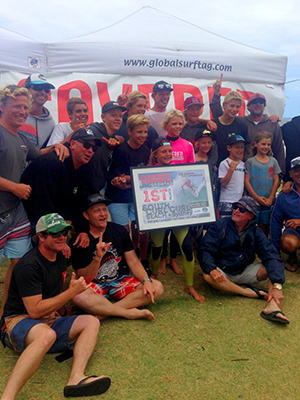 Last Saturday, the presidents and surfers from the three Maroubra based boardriders, put aside their friendly rivalries to field a united Maroubra team to face our common enemies (i.e. anyone not from Maroubra) at the Covered Mag Gromtag at Curl Curl on the Northern Beaches.
And the rest, as they say, is history. The team won all of their heats up to and including the final and at long last, rivalry was replaced by revelry at Maroubra as the surfers, the presidents, the members and the old guard shared a beer back on home soil or at least a comment and a 'like' across social media.
Congratulations must go out to the surfers (Jackson, Monty, Max, Tye and Jason) the extended team and supporters (pictured above), but particularly to the new leadership at Maroubra beach for dropping the egos and dragging our beach back into the winners circle. Sure it is just one grommet comp victory and the real trials and tests of a united Maroubra effort is yet to come, but surely we can at least enjoy this moment and look forward into the future rather than dwell on the past… it's what the grommets want.
Coverage and commentary on the event can be found at:
https://www.facebook.com/CoveredMagGromtag/
https://www.facebook.com/southend.boardriders
https://www.instagram.com/southendboardriders/
http://www.swellnet.com/news/form-guide/2015/12/14/maroubra-win-gromtag-big-surf-south-curl-curl