As always the Weave Kool Kids were excited to see the bus roll up early on Saturday morning for our last winter surfing competition for 2014. We were happy little vegemites because the mighty SOUTH SYDNEY RABBITOHS had just secured a spot in the NRL Grand Final. On Saturday 27th September the boardriders crew headed for Maroubra beach and were blessed with blue skies, warm weather and decent waves.
With a small group of three kids, we made our way to the competitor's area where we signed on for the micro grommets heat and listened to the plans for the day.  We suited up, waxed our boards and headed to south end for the start of the heats.  With time to spare the Kool Kids hit the waves for a free surf to prepare for their 20 minute heats.  Maui, Shauna-Lee and Carmen ripped into the waves and were ready to go come comp time.
The first Kool Kid to surf was Carmen-Lee Ingrey.  She participated in the girl's Micro event (6-12 year old).  Carmen was excited and a little anxious before hitting the water.  I prepared her for the heat by talking about the conditions and asking her questions about what she saw out in the water and where she should get her waves.  After explaining to Carmen that she is ready to take the next step with her surfing and that it was time to challenge herself further, for the first time ever, she entered the water without me!  With a look of fear on her face, she stepped up and used the rip to take her out the back where she needed to be to get the best waves. What we witnessed next was nothing short of spectacular.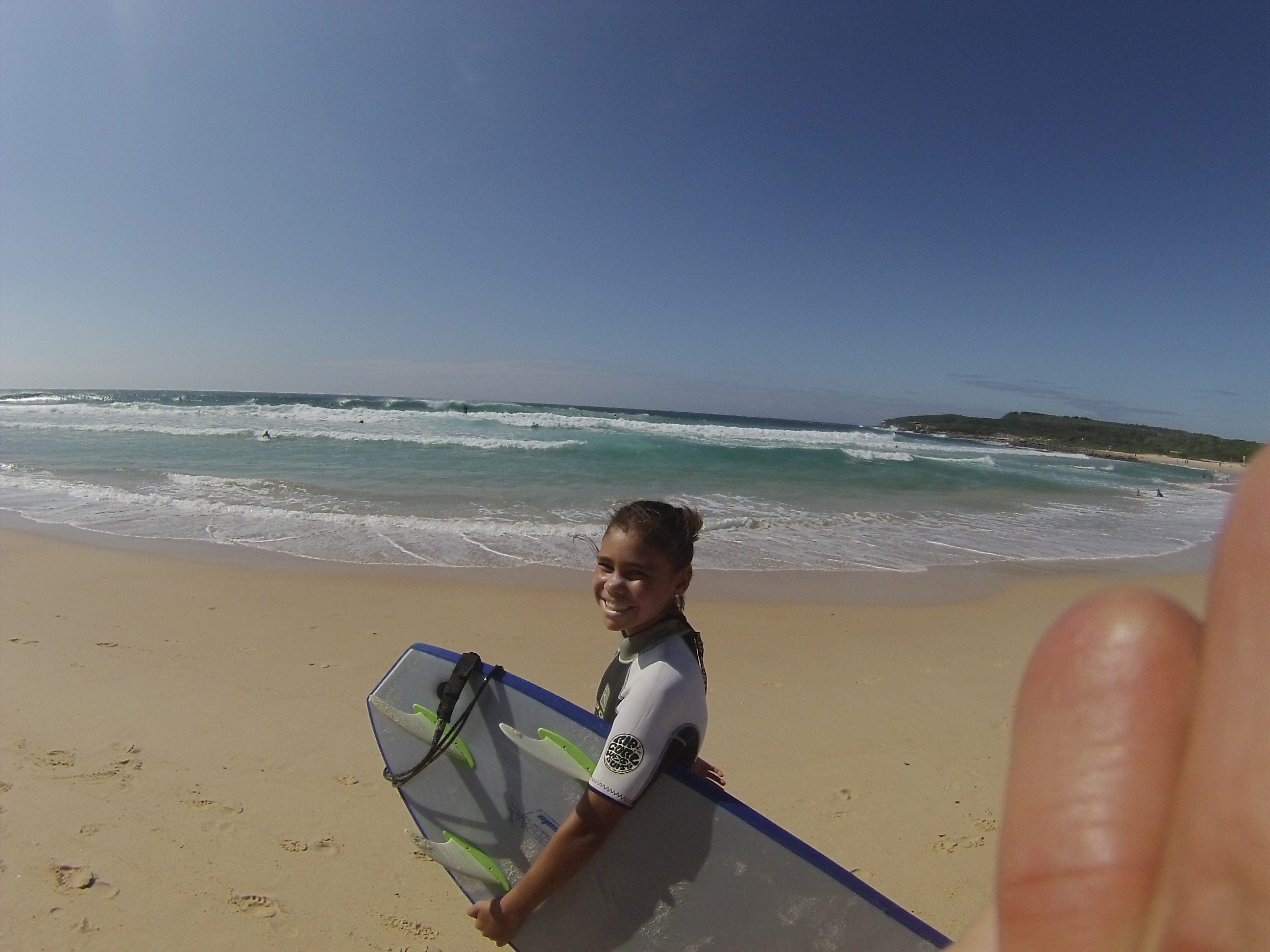 Carmen chose great waves to paddle into and rode most of them to the shore line.  During the 20 minute heat she was the only competitor that caught 5 waves on her own, while her competitors where being pushed onto their waves by adults.  The crowd on the beach went wild and were clapping and cheering with excitement when Carmen exited the water at the end of her heat.  She had everyone smiling with joy and we all felt so proud of her effort.  I recall a fellow competitor, Mia, approaching Carmen to congratulate her on how well she surfed.  The comment that sticks with me is "you should be really proud of yourself, I think you are so brave for surfing on your own". Wow!  Kids get it so right sometimes.
Maui Mongta was also pumped and ready to hit the waves for his heat.   As always, Maui was keen to surf the heat on his own.  He was faced with wind affected surf but this didn't deter him from making the most of the 20 minutes and qualifying for the Semi Final.  During the Semi Final, Maui surfed with confidence and made surfing look easy.  Unfortunately he was pipped at the post and finished 3rd (the top two point scorers go through to the final).  Maui showed great sportsmanship and had a smile from ear to ear.  He is definitely one to watch next year as his surfing has stepped up and he has shown that his ready for more challenges!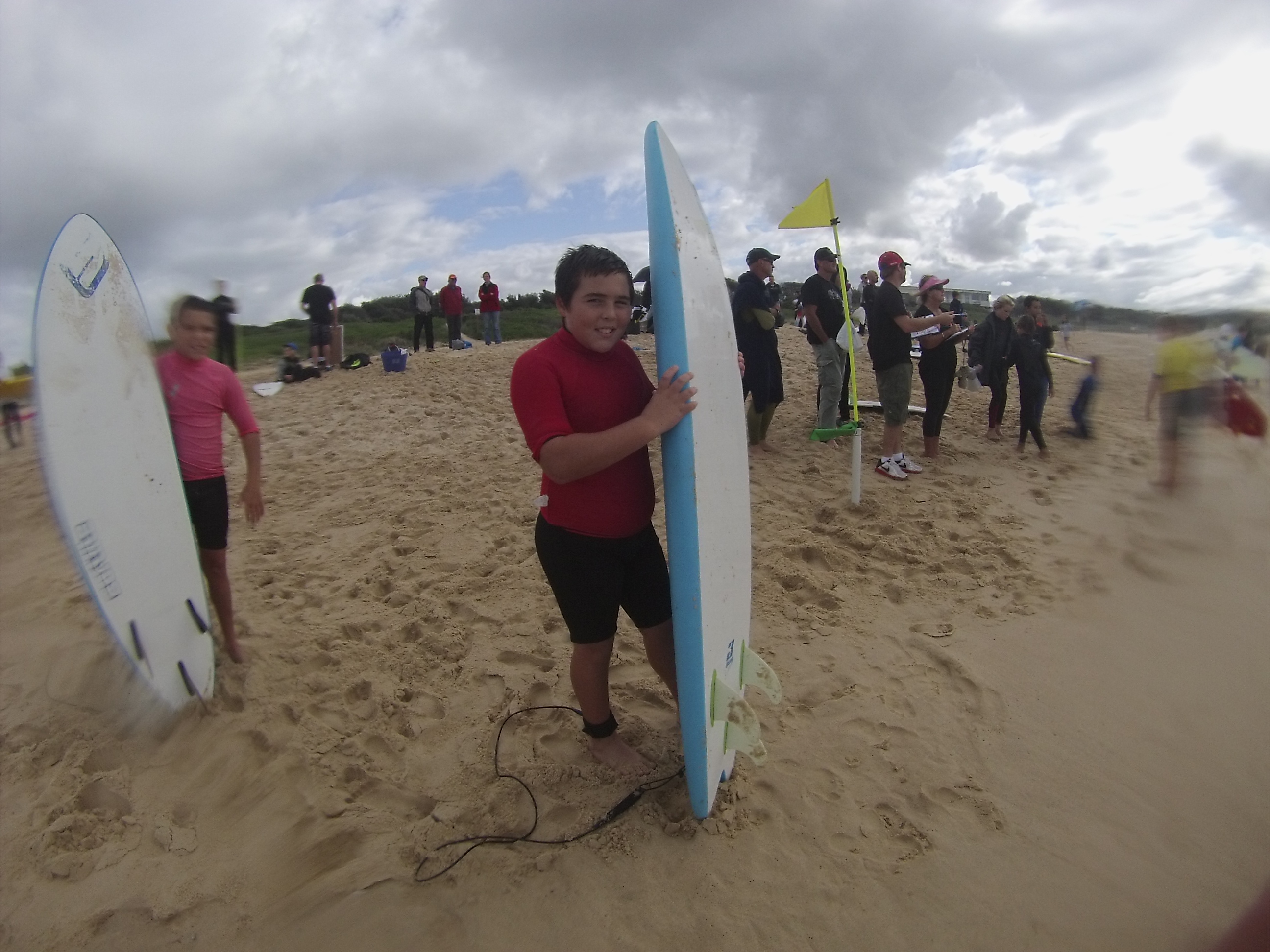 Shauna-Lee surfed with the crew throughout the day and helped the kids prepare for their heats.  Shauna surfs with the cadet girls but unfortunately her heat was on at the same time as the micros and at the northern end of the beach. With true Shauna-Lee style she took it in her stride and missed her heat so she could support Carmen & Maui.  Shauna is always a pleasure to have as part of the team and never stops giving to the younger crew.  You're a star Shauna-Lee!
The kids played footy, had a feed and hung out while waiting for the results and presentation to take place.  An old Maroubra local, "Mugsy", sat and spoke with the Kool Kids and it was discovered that he knew their parents and family members from growing up in the La Pa area.  The kids heard stories of their dads playing footy and surfing, mums being amazing and grandparents being a huge part of the community.  Wow, this is what it's all about!  Our community never stops surprising me with their generosity.  Mugsy is arranging three fibreglass surfboards for Maui, Shauna-Lee and Carmen because he saw the positive influence that surfing is providing for these kids.
Finally, the presentation was on.  There was a buzz among our crew because we were all so excited to see how Carmen had gone.  I had a feeling that today was her day.  We listened to the micro girls names being called out and Carmen was still standing when second place was called.  It was not her name that was called out……..Oh dear!  But what a feeling to hear her take out 1st position in the girls Micro Final!  This Carmen's first win and also she is the first Kool Kid to take out a 1st spot.  She was beaming when she received a new leg rope and a $20 voucher to spend at Bondi Surf Shop.  The praise she received was huge and I could tell this meant more than the prizes she held onto so tightly.  Maui and Shauna-Lee were very proud of her and we made a big deal about the win.
We finished the day at a local Café were we cashed in our vouchers for meat pies and sausage rolls (true surfer's lunch). The winner asked for fish and chips – how do you say no!  We saw plenty of switch leaders at the beach and the crew were stoked to hear about Carmen's win.  It was an awesome day.  The sun was out, the surfing was outstanding, tunes were blaring and we all listened to endless renditions of Glory Glory to South Sydney all day.
Congratulations to the following Weave Kool Kids who participated and now are part of the 2014 South Maroubra Board riders Club family:
Riley Foster, Kayde King,Jaidon King, Maui Mongta, Carmen-Lee Ingrey,  and Shauna-Lee Withers.
The above would not be possible without the continued support we receive from Surfing NSW, Hayley you are amazing and thank you for always thinking about the Weave Kool Kids when opportunities arise. Also, a shout out to the crew from Southend Boardriders Maroubra, thank you for your encouragement and endless time you give to the Boardriders and the Weave Kool Kids team.  And to our Kool Kids team leader Lucy, for listening to my crazy ideas and having the faith that we could pull this one off once a month. You're a gem.
Keep surfing and stay stoked until we meet again on Saturday 15th November for the end of year presentation.  You kids RIP. Yippity Yip!!!
Melissa Leaudais
Activities Worker
Kool Kids Club