Stop two of the Billabong Bloodlines Series – Taj's Small Fries at Yallingup in SW WA
For the first few days the isolated location south of Yallingup provided pumping waves for competitors at the Taj Small Fries Event. Everyone made the most of a mechanical sandbank that spat out consistent 2-3 foot runners that provided multiple scoring sections. Koda found his groove right away in the early rounds and on day 2 was 1 of 3 surfers to notch up perfect 10-point ride. Koda Killorn was voted the best performing surfer in the entertaining 12 & Under Boys division on day 2. The judges enjoyed his smooth and relaxed style as did one of the best surfers in the world Taj Burrow who commented "Koda was on fire showing a great repertoire of forehand manoeuvres. He's definitely the one to beat in the 12's".
Finals day saw Koda move through to the final. Waves were in the 5 foot range but that didn't bother the youngster. Using a smooth and sharp rail game, Koda sliced and diced his way to a great win scoring a 6.50 and 6.25 to finish on a combined total of 12.75 (from a possible 20). Daniel Benedetti (Margaret River, WA), George Simpson (Gracetown, WA) and Alistair Williams (Gracetown, WA) tried their best but couldn't stop the in form youngster. Koda was presented with the trophy from his idol and as you can see in the photos you couldn't wipe that smile from his face. Koda thanked his mum and dad for getting him over to WA in a great victory speech. "This is my first time to WA and it's been sick, Taj took us surfing and I'm stoked to have won his event."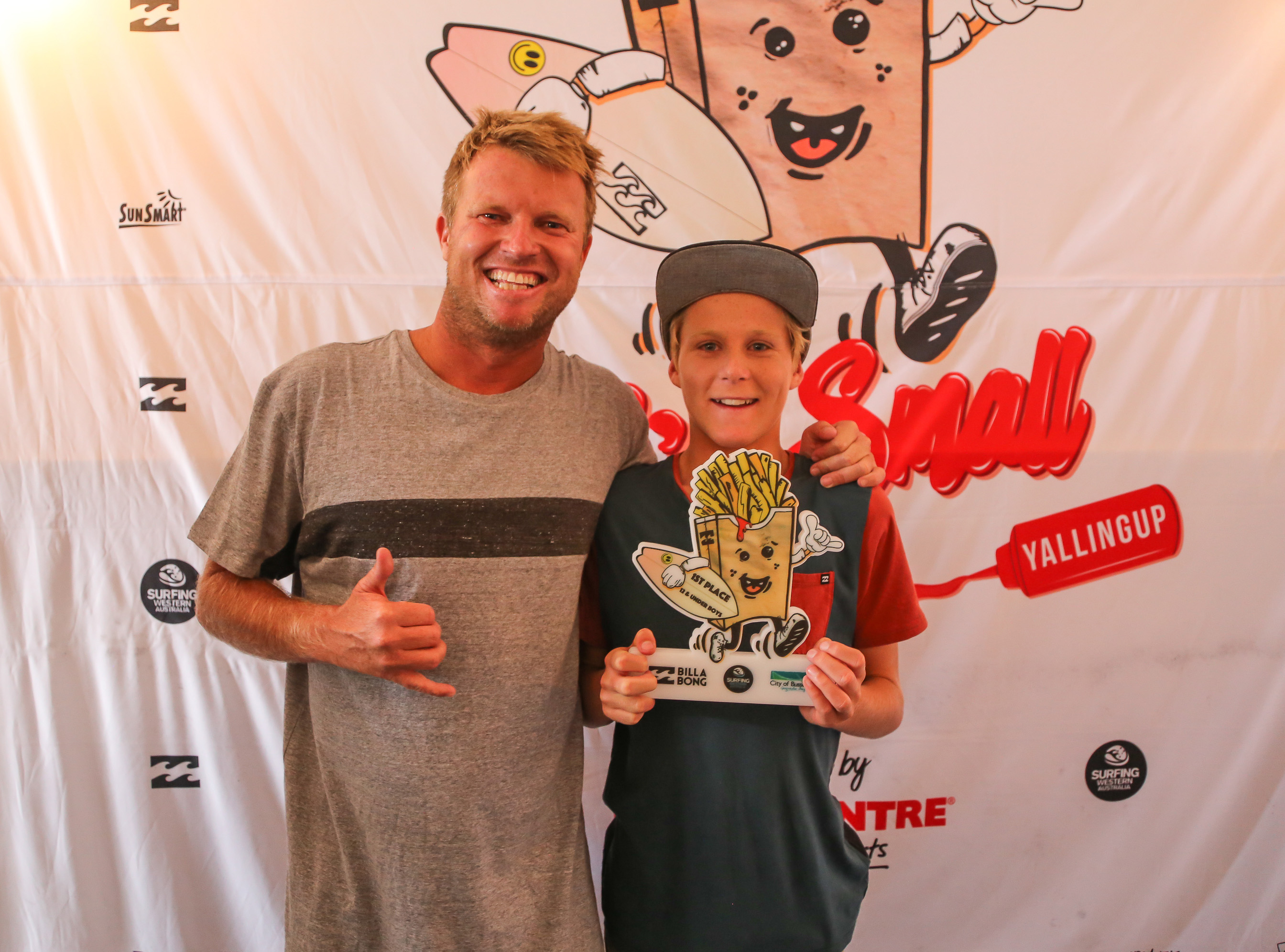 12 & UNDER BOYS:
1ST – Koda Killorn (Maroubra, NSW) – 12.75pts
2ND – Daniel Bennedetti (Margaret River, WA) – 12.40pts
3RD – George Simpson (Gracetown, WA) – 9.60pts
4TH – Alistair Williams (Gracetown, WA) – 7.90pts
Koda now hold the Parko Grom Stomp + Taj Small Fries trophies and will be looking at completing a clean sweep of all the grom trophies when he competes at The Oz Grom Cup in Coffs Harbour and Occy's Grom Comp on the Goldy later this year. Well done grommet and good luck in the next events.