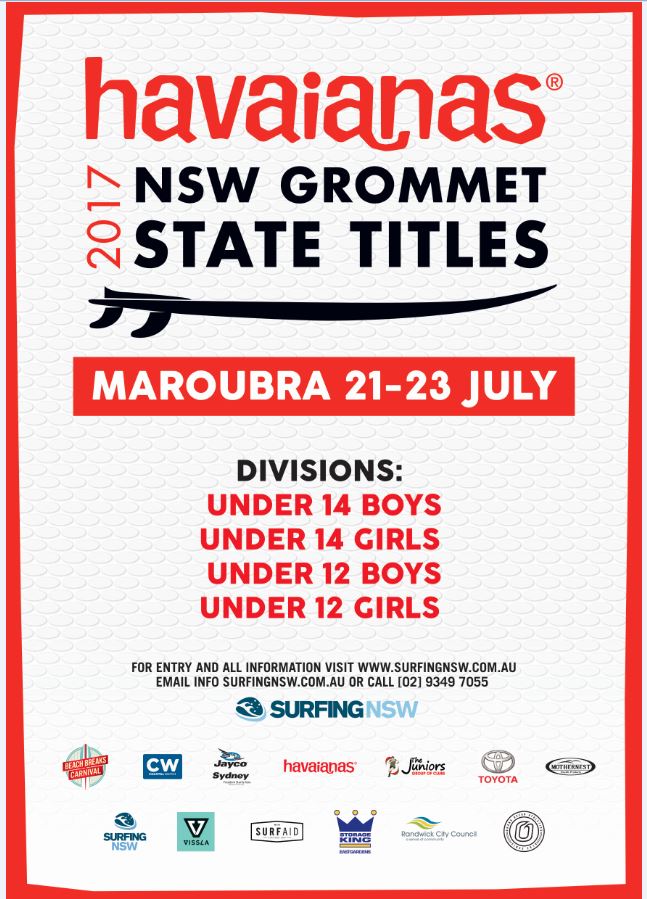 There is heaps of stuff happening today and over the weekend at Maroubra for all groms including those not competing.
The 2017 Havaianas NSW Grommet State Titles will see over 130 of NSW's best grommet surfers compete in an effort to claim a state title and position in the Australian Junior Surfing Titles. There will also be a bevvy of fun Havaianas activities on offer throughout the weekend including;
Beach games: Fun games for the kids and kids at heart. Twice daily on the sand from 10.30am to 12.30 with plenty of fun prizes up for grabs.
Free surfboard ride: A free mechanical surfboard ride for everyone who heads down on Sunday 23 July, 7.30am – 2.00pm. Get down to Maroubra Beach early to avoid the queue.
Win a years' worth of Havaianas: A years' worth of Havaianas is up for grabs on Saturday & Sunday, make sure you enter the Instagram Competition located near the mechanical surfboard!
The annual Beachbreaks Festival will also be taking place on Sunday, offering more fun festival activities for the whole family. Make sure you get down to the beach and buy some lunch from our BBQ stand to help us get  the Maroubra United team up to QLD to compete in the Kirra Teams Challenge.   You can follow the action-packed surfing and fun weekend coverage via @Havaianas_AU and Surfing NSW #2017HavisGromms – H2CoCo: Between Saturday and Sunday between 11AM-2PM. Free samples of H2CoCo will be given out by H2CoCo representatives. Coconut bowling games with prizes for winners.
Here is the event on Facebook for the groms to click attending – https://www.facebook.com/events/1971192343156789/
Heat Draws can also be found here:  https://www.surfingaustralia.com/states/nsw/events/havaianas-nsw-grommet-state-titles
Goodluck to all local Maroubra groms surfing!