I think every competitor was stoked to see clean 3-4 ft lines of SE swell when they showed up for Comp 2 of the 2016 season. Sure there were a few closeouts but there were still plenty of nuggets for those who were in the right place at the right time. We chose to surf the bank at middle which had a nice left and right which kept both the regular and goofy footers happy. 
The A Graders kicked of the day with Jamie Haskas, Max McGuigan, Matt Angelis and Maxime Leleu leading the way in Round 1. In Semi 1 Nick Kennedy and Maxime started the heat with a bang both scoring 6+ point ride which put them in the drivers seat to advance to the final and once they had a mid range score as their back up their spot in the final was sealed. The battle for 3rd was was like watching a tennis rally. Blondie would hit the lead, then Haskas would take over, Will Parker for a few moments had 3rd spot. In the end Jamie Haskas advanced to the final. In the 2nd semi Brock Butcher stole the show cracking a series of 3 vertical backhand re entries. The judges were impressed and gave him an 8.4. One of the best single wave score of the day. Max – 9.2 just edged out Jay Barron – 8.9 to take the 5th and last spot in the final. The Final was a cracker. One of the best I have seen in a while. It did get off to a slow start and it was Maxime who got things started with a great 6.33 ride. A series of nice clean turn in the pocket and finished it off with a lovely floating re entry. From there it all systems go and everyone kicked into action. Jamie was in the right spot to pick off one of the bigger set of the day and ripped the wave apart on his forehand. Nick K and Max both got a nice set wave each which left them within striking distance of the top 2. The final ebbed and flowed with positions changing constantly throughout and right up to the siren. It ended up Jamie Haskas taking the event by the narrowest of margins 12.56 with Maxime 2nd 12.50. These guys both ripped and there deserved to be no loser. Max 3rd 8.97 – Nick K 4th 8.27 – Brock 5th 6.43. Jamie was stoked to win his 1st ever Final. Well done mate. I am sure you re still buzzing. Also Maxime buddy you surfed unreal throughout the day. I am sure we will see you winning finals soon.
The Cadet Boys took their fair share of heavy wipeouts but a few of them managed to find some gems that impressed the judges. Kyle O'Sullivan scored the wave of the day for the cadets and in the top 5 waves of the whole day when he was in position to pick off a beautiful wave. He timed it perfectly and pulled into a sick barrel travelled through the thing for 3-4 seconds and snuck out out of it before it detonated on the inside. The crowd and judges loved it and rewarded him with a 8.27. The Final was a different story. The wind had come up and the tide had dropped out meaning you had to choose your waves wisely. It was young Koda Killorn who kept his patience and picked off the right ones to take the win. Kyle O'Sullivan was 2nd Lucas Bersot 3rd Jacob Phillips 4th Jackson Dennett 5th and Nicolas Clarens in 6th. Special mention to young Jackson Dennett who only recovered from a serious leg injury 3 days earlier and ended up making the finals. Well done young from.
All the Junior Boys surfed really well throughout the day. Some highlights of the early rounds included Gully Thomas sick barrel in round 1 scored 9.0, Zac Michael's air 360 in the semi & Paolo Cignetti barrel in the semi with a re entry to finish. The final of the Juniors saw Gully Thomas, Zac Michael, Jason O'Rouke, Stevie Ray,Tye Koolis and Paolo Cignetti battling out to see who would be no1. It was a super close heat, with only 0.5 separating 1-2-3. It was Tye Koolis who snuck victory in the closing minutes 9.33 over Gully Thomas 9.0 and Zac Michael 3rd 8.85. Just a little further back Paulo 4th, Jason 5th and Stevie Ray 6th. Well done boys. Great surfing by all of you.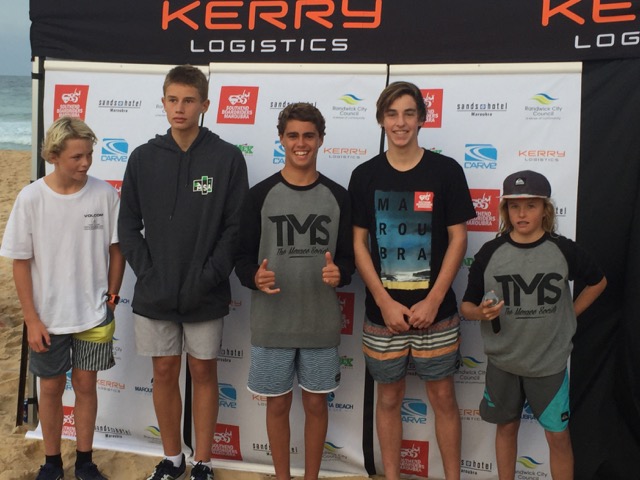 Emma McGuigan surfed amazingly well and had a good win in the Open Women's making it 2 from 2 this season Kirra Lowlett Richards in 2nd, Georgia Tomaszuk in 3rd, Gretel Tomaszuk in 4th, Marine Le Van Xieu 5th and Charlotte Wilson in 6th.
The Final of the B Grade was a close one with Jordan Gilbert (8.77) taking the win over John Hickman (6.97) in 2nd. Prez Hickey claimed 3rd, Karo snatched 4th over Stu "Eminem" Donnelly 5th. Jordan jumps into the lead of the rating in B grade with a 1st and 2nd place finish this year.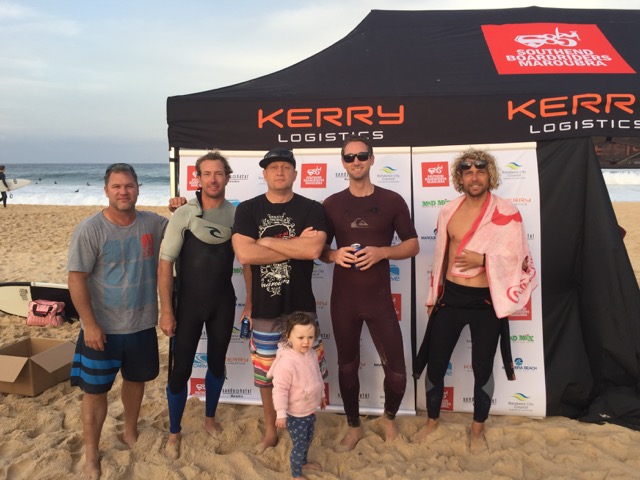 The Grand Masters got some some good waves in their semi and Final. Pineapple had a heat to remember scoring a 13.83 / 20 catching 2 awesome rides. His heat score was the highest heat score of the day at the time and remained that way come the close of play. Come the final it was the dimiutive Brazilian Luiz DeOliveira who stole the show with with some great re-entries and hooks (finishing on 12.16 points), with Brett Raby 2nd Murray Cook in 3rd,  Andrew Pineapple in 4th & Tommy North in 5th. That is 2 from 2 Luiz and the other old boys need to rethink their strategies for 3 comp and beyond to rein in the runaway points leader.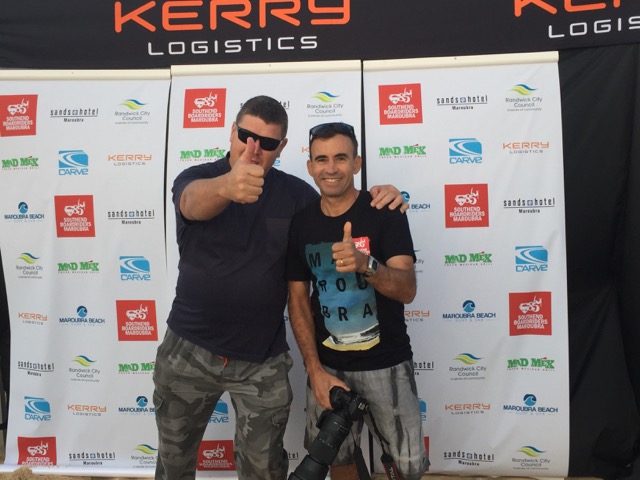 The young gross in the Parent Assist – Micros surfed further down towards Southend on a super fun right peak. Firstly welcome to new youngsters Luano Rubbo, Diego Clarens, Max Petit, Luke Coulson and Ty Paton who joined the club this round. In the young boys Harper Stewart, Koby Michaels and Koby Lawson dominated and took out their R1 heats. The groms had a ball and every kid got a bunch of great waves. The final was a tight affair and young Dylan O'Rouke surfed briliantly to claim the win. Big shout outs to young Mac Baldwin and Max Petit for making their 1st ever final. The Micro girls also went out there and had a blast. It was a tight battle and in the end needed a count back to decide the winner. It was little 6 year old Ally Hickman's day narrowly winning with Keana O'Neill 2nd. Congrats Ally. 1st ever comp win.
The Cadet girls surfed really well and you can see how much these girls just love surfing. Laughing, smiling and cheering each other on. The semis were great and the final had it all too. Shira kicked off the final a nice 5 point ride getting some nice turns on a nice walling wave. The other finalists all were getting mid range scores but were still within striking distance of the heat leader Shira who couldn't find a back up. It came down to the last 30 seconds when a nice looking wave stood up for Baylei McGuigan. It was all or nothing and young Baylei and she swooped. Some nice turns and a 6.5. It was just enough to take the victory. Shira finished 2nd, Axelle Linosser 3rd, Luano Rubbo 4th and Isabella Tavioni 5th.
Thanks to everyone who turned up. Big shout out to our Comp 2 sponsor Mad Mex Maroubra and also a huge thanks to Craig from Maroubra Surf'n'Skate for the prizes for the groms. Finally I'd like to thank everyone did their bit during the day. Set up pack up, judge, cook, whatever it all helps to make it a great day. Finally I'd like thank the big french contingency who were down there cheering on the young french surfers and in fact competitors. A good wave was met with cheers and whistles. It created an awesome vibe and went up a level during the finals. Merci med amis. Well that is  wrap folks. Stay safe until we see you again on June 18th.