It's come around very quickly, but there is now just over a week until the annual Paul Baxter Shield (Saturday July 18) at Maroubra beach.  Surfing positions are filling up very fast, so once again we wanted to remind you that there is a maximum limit of only 64 surfers (4 x teams of 16) that are able to compete on the day and we definitely don't want you to miss out on all the fun……. So make sure you either register online or come down to the Sands Hotel at 6pm tomorrow night or you may miss out.
The Baxter Shield teams draw and final registration night will be held at the Sands Hotel this Friday (July 10) at 6pm.The contest is open to the public and to members of any other Boardriders clubs so just remember Surfing positions are not secured until payment has actually made. So come down and register (if you haven't already), grab your sick Baxter Shield T-shirt and see what team you are drawn in…… we will also be doing the regular 20 schooner raffle.
You can also register here at http://southendboardriders.com.au/purchase/paul-baxter-shield/2015-baxter-shield-entry/
The Contest:
Tag Team format where all competing surfers are allocated into four (4) teams and surfing is on retro twin-fin and single-fin surfboards in an effort to claim the coveted Paul Baxter Shield.
This contest is an open pre-paid surfing event. It is a bargain at only $30, which includes a sick designer T-Shirt, breakfast, lunch, drinks, great prizes, special guests, live entertainment and most importantly the chance to have your name etched in surfing history.  We encourage all Maroubra surfers and spectators to come down on the day and be a part of the great atmosphere, have a laugh,  eat some food, listen to some funky music and watch some good surfing.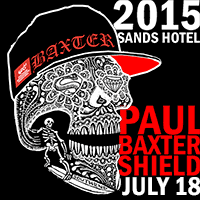 Adiós Amigos