Thanks to all who turned up and surfed at the Southend Boardriders comp on Saturday, our first comp for 2016, proudly presented by Kerry Logistics.  It was great to see some new faces in among the familiar ones and we hope you all had a good day. We were only expecting smallish waves and were a little unsure on the weather, but the NE blew overnight and brought in some solid 3-4 footers and blew away the clouds which meant we had plenty of waves and sun all day.
In fact the waves were solid enough to be pushing around a lot of water and for an hour or two there, the beach was closed and we were expecting that the parent-assist micro groms and cadet girls divisions might not get a run. But as the tide dropped out and the parents met to assess the conditions, the call was made to go ahead and the little grommets made their way down to the bowl for their heats.
Congratulations has to go out to all of the young boys and girls who competed in what were some very testing conditions. A particular mention to Ben Christensen, Matis Jos-Roland, Jack Wregg, Shira Arakawa and Axelle Linossier who jumped straight into the rip and out the back of the bowl to take on the sets, often getting absolutely flogged in between those waves that they did manage to get. Even the younger kids a little further on the inside were surfing well on the foamies and managed to sniff out a few little walls here and there to put some turns in. Hopefully we get a little more favourable conditions for the next comp on May 21.  Ben Christensen won the micro boys final with solid left-hander into the bowl. Matis finished 2nd, Jack Wregg in 3rd and super-grommet Koby Michaels close behind in 4th.  In the Micro Girls, Ella Bradstreet had a good win, edging out Ava Ferris in 2nd, Kobi O'Sulilvan in 3rd and Keanna O'Neill in 4th. For the Cadet Girls, we had two equal first places and 2 equal 3rds, even after counting back 5 or 6 waves we couldn't split them. In equal 1st was Shira Arakawa and Axelle Linossier and in equal 3rd was Zoe Cass and Kyrah Lawson.
The Cadet Boys took their fair share of heavy wipeouts too throughout the day, but they soldiered on and found some good waves to rip apart in front of the judges. Conor Barrett took out the heat with a couple of decent 4 point rides, followed by Jacob Phillips in 2nd, Nicolas Clarens in 3rd and Flynn Marks in 4th
The final of the juniors division saw brothers Conor and Jordan Fitzgerald, Liam Rayner and Eliott Durr all battling for the win. It was a super close heat, in fact so close that the Fitzgerald brothers finished on equal points (10.34) and it went to a countback to separate them, giving Conor bragging rights in the Fitzgerald house this month, Jordan in 2nd place, Liam Rayner close behind in 3rd and Eliott Durr in 4th.
And not wanting to be outdone by the younger kids, the A Grade, B Grade, Open Women's and Masters divisions all copped their fair share of beatings, lips to the head and dark, sandy closeouts too. The A grade semis and final made for some very entertaining watching, with some big critical hacks to wow the crowd. The final was very close at the top, with Jay Barron and Joey Michael getting off to a flying start. Jay put in a very solid performance and lead the heat until the final couple of minutes when Joey Michael jagged a beauty and managed to scrape home with the win. Joey Micahel in 1st place (10.83), Jay Barron 2nd (10.48), Nick Kennedy in 3rd (9.47) Karl Richards in 4th (9.1) with Cory Barron in 5th and Wayne Baldwin in 6th.
Lisa McGuigan had a good win in the Open Women's, followed by Georgia Tomaszuk in 2nd, Charlotte Wilson in 3rd, Gretel Tomaszuk in 4th and Jeanne Sieg in 5th.
B-Grade was taken out by Myles Conquest (8.33) closely followed by Jordan Gilbert (7.93). In 3rd place was Stu Donelly, 4th Andrew Karo, 5th Matt Lawson and 6th Troy Futcher.
The Grand Masters saw the older fellas getting some good turns and occasionally even better wipe outs. Luiz DeOliveira (Pictured below credit to NLP Photos) had a convincing win with some great re-entries and hooks (finishing on 10 points), with Andrew Pineapple O'Sullivan in 2nd, Tommy North in 3rd and Brett Raby in 4th, surfing in his first comp for 20 years and coming all the way down from the Central Coast.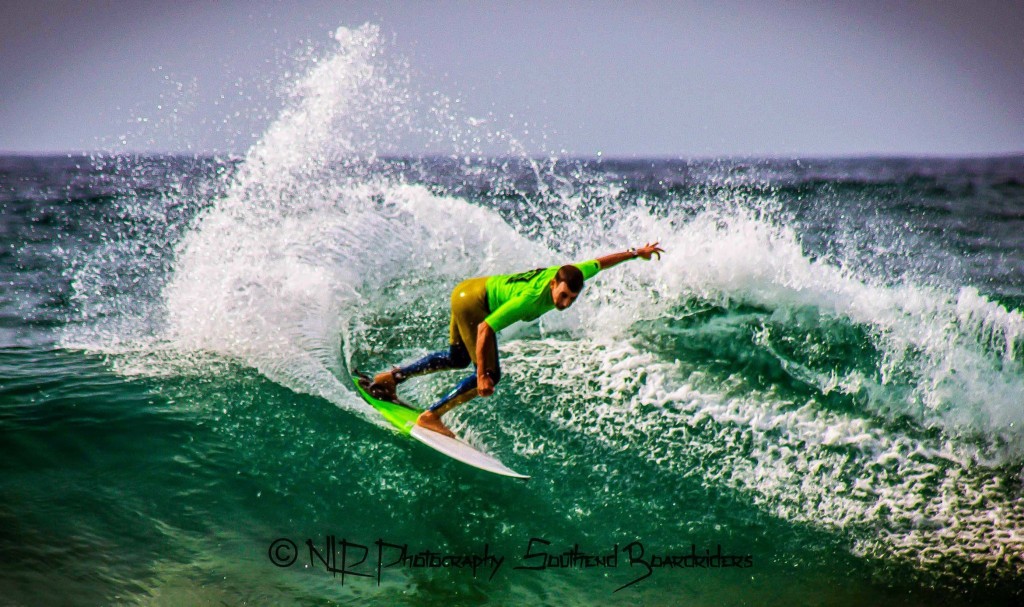 Man-of-the-match performance for the day has to go to Martin 'fish' Fisher, who was there at first light to help set up, cooked on the BBQ all day, put on his wetty to head out for an hour as water safety for the micro kids and was still there in the dark at the end of the day, dragging the stuff up off the sand while most everyone else were scurrying back to their cars for a quick exit. Thanks heaps Fish – an awesome effort that is much appreciated!
Thanks also to all of you who chipped in to help judge, to Mark Thompson on the BBQ, to Kate and Jodie for helping out with the tees and the hoodies, and to the lovely Nina Pickering www.facebook.com/NLPphotos for coming down and hanging out for a while to take some great shots of the action. Kerry Logistics helped us to put the day on and Maroubra Surf N Sk8 provided a bunch of vouchers that a lot of the younger kids were stoked about.
Next comp is May 21, but before that is the OCEAN AND EARTH NSW JUNIOR REGIONAL TITLES – SOUTHERN BEACHES at Maroubra on May 14 and 15, so all of you grommets need to jump online at www.Surfingnsw.com.au and register yourself to surf.