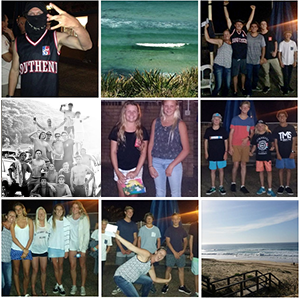 October 25 was the final 2014 competition for the Southend Boardriders pointscore, once again held up on the beautiful NSW mid-north coast. A high tide in the morning and a small NE wind swell meant that choosing a location wasn't that easy and there were a number of highway surfers scouring the coast from Bull Paddocks to Lighthouse to see what was on offer, with Boomerang finally being decided as the most likely to provide waves throughout the day. And it didn't disappoint with a slowly building swell, clean conditions, blue skies and lefts and right aplenty, there were some great waves on offer right through to the finals late in the afternoon. Not even a slight delay owing to a shark swimming through the line-up could unsettle the keen rippers out there in what for most divisions was a crucial chance at points before the season final rankings are calculated…
The standard of surfing has risen so much this year, that even the round one heats could easily have been finals. Consistent big and stylish manoeuvres were being traded all day with surfers like Kye Black, Oscar Elfman, Kel Gollan, Liam Rayner, Luke Johnson, Koda Killorn and Wayne Baldwin consistently throwing buckets all the way into the shorey and really throwing down the gauntlet for the others in their respective divisions.
The results of the day's competition are here in PDF format.
Thanks to all of the surfers, family and friends who made it up for the foster comp this year, it was a big turn out and a great way to wrap up the 2014 comps – There's a few pics up on the Southend Facebook page including a legendary one of the young fellas a.k.a the Booti Booti Menaces – poor campground didn't know what hit it.
6pm on Saturday November 8 is the Southend 100 Club party and the final badge draws with $2650 in cash to giveaway (including the $200 we didn't draw at the rec club on Saturday). This year's venue is the balcony at the Legion Club at Coogee and includes food, drinks and a live band. Note: Current 100 Club members can renew their badge number for 2015 now through the web site. In December all non-renewed numbers become available for anyone to grab.
The following Saturday November 15 is the Southend end of season awards day. The event will be a lunchtime gig down at Byrne Reserve behind the beach and will include all the customary stuff like food, drinks, tunes, trophies, prizes and novelty sports. More details soon. Have fun.