A whopping $60, 000 in prizes are up for grabs in the Surfing Australia 'Monster' Raffle!
The Be the Influence Australian Boardriders Battle includes a Monster Raffle giveaway with one lucky ticket holder to drive away in a Toyota RAV4, AWD. All proceeds from the raffle will go back to Boardrider Clubs around Australia…..Raffle Tickets are only $5.00 each and any tickets sold through Southend Boardriders goes straight back to the club.  Meaning you not only support your club but also Win great prizes!
Major Prizes are:
1st Prize:
Toyota RAV4 AWD (valued at $55,000)
Cruiser Diesel 2.2, 6-speed Auto
Includes all on road costs and dealer delivery, Leather Accented Seats and premium steering wheel with audio, MID and telephone controls Single-disc in-dash CD player with 6.1" LCD touchscreen, MP3 compatibility and AM/FM tune with Satellite Navigation and Blind Spot Monitor.
2nd Prize
Billabong Pack (valued at $1475 rrp)
Xero Furnace Wetsuit ($575), 2 x Platinum X Boardshorts ($200), Atlantic Travel Bag ($300), Phaser Watch ($200), VZ Elmore sunglasses ($200)
3RD PRIZE
Nikon camera (valued at up to $1000 rrp)
Entry is easy……To Enter simply go to http://www.surfingaustralia.com/monsterraffle/
Go to the map of Oz – Pick NSW
A list of all Boardriding clubs pops up so pick SOUTHEND BOARDRIDER (Bottom of middle row)
Compete steps 2 / 3 / 4
Press "PURCHASE"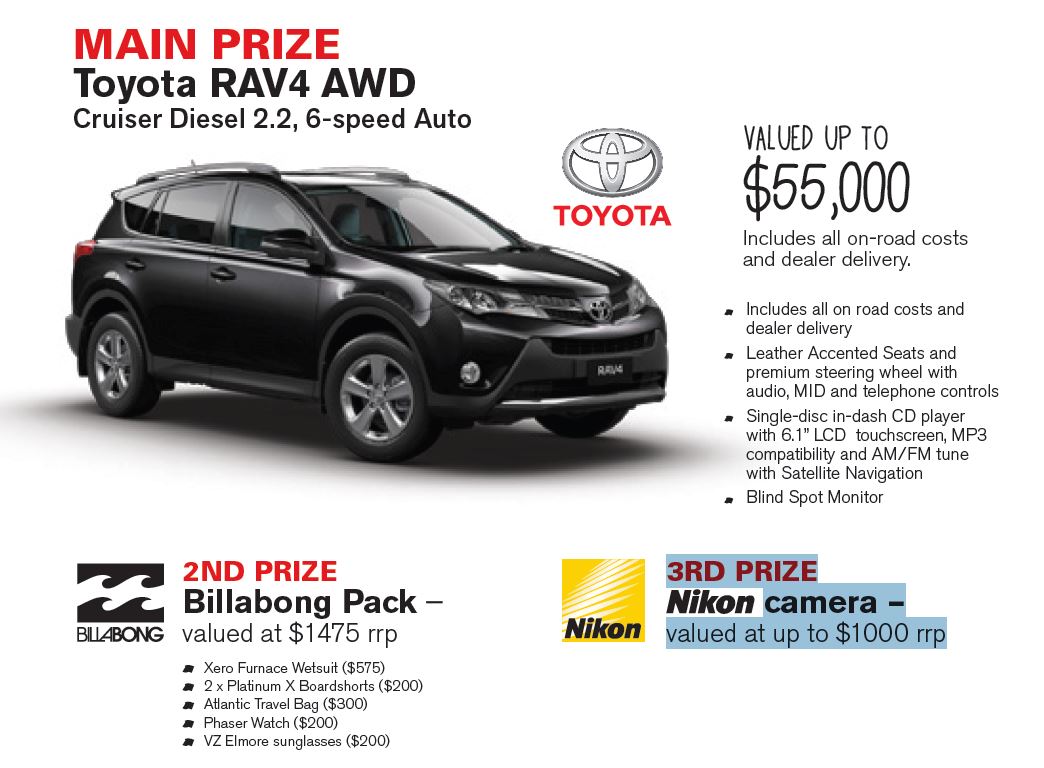 and remember; 'Ya gots to be in it, to win it'!