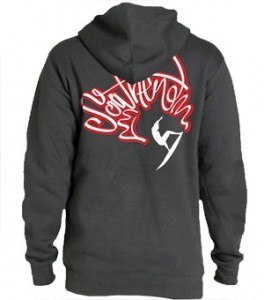 The awesome 'New School – Keepin it real – this is the way I roll" Southend Graffiti Hoodie is out now for a LIMITED time. At only $50 they are ridiculously cheap. We are placing the one and only order on July 1st so that they will be ready for the Paul Baxter Shield comp later on July 28, so that means if you want one, you need to order now! Simply go to the Purchase Hoodie Shopping Cart Thing Page and use your paypal account or credit card to place your order. SOLD OUT!!!
This is the first hoodie that we have done since the old Black and Blue design back in 2006 – so if you are sitting there thinking "I might just get one later" keep in mind that 'later' might just be something like 2018.
These are a good quality heavy weight (350GSM) hoodies in Graphite Grey (not Enmore EMO Black and not Bondi Pastel); they will ensure your warmth and local Maroubra status for years to come – dont miss out!