This Saturday April 12 is the 2014 Buckler to Bra Memorial Teams Challenge at Bondi Beach and we're calling on all Southend members and supporters to put on your Southend shirt or wear something red and come down to Bondi to support the team as we surf against Bondi, MSA and Bronte Boardriders. The
event will be a great day for all involved with a DJ and great food available courtesy of Bar 34 South.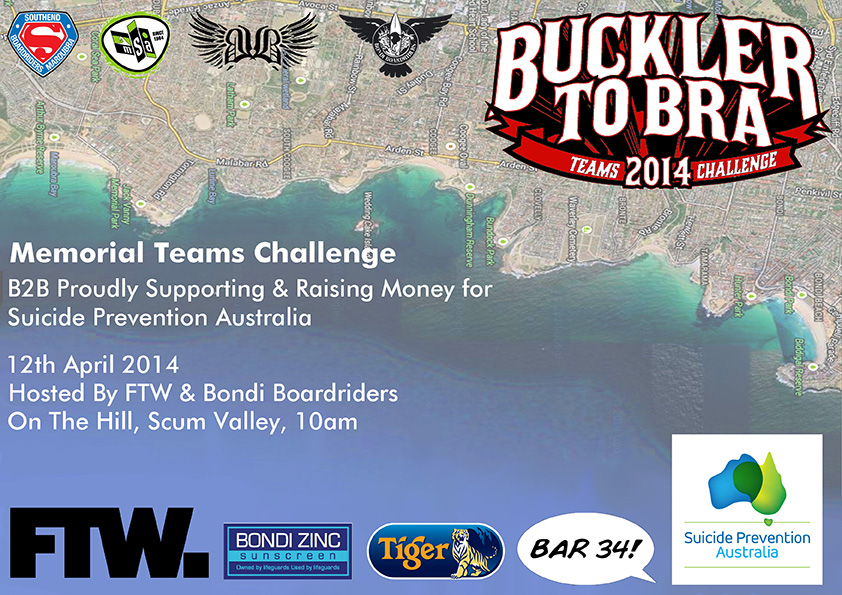 The day kicks off with an expression session for the junior surfers at 9am, a 1 hour heat for under 20's from 10am (3 x u19, 1 x u16 and 1 x u14), Opens heat from 11am and the over 40's from 12pm. The heats will be followed by a paddle out memorial service for all surfers and spectators and then the final from 2pm.
Bar 34 South is hosting the presentation party straight across the road after the comp finishes at around 3:30pm on Saturday afternoon with more tunes and surf movies on screen, so book in for another fun Saturday and get down to Bondi to be part of the action.
The Buckler to Bra Memorial comp is being presented by FTW and is raising money for Suicide Prevention Australia (suicide being the leading cause of death in Australia for men under 44) and something that too many of us have had to deal with. Support is always available: Lifeline 13 11 14; Kids Helpline 1800 551 800
—
A few shout outs of congratulations before we wrap up; Emma McGuigan won the U17's boardriding at the SLSC Aussie titles in Perth (also 3rd in the opens and 4th in the longboards!) and brother Max 2nd place in the under 15 boys; and to Monty Tait for chalking up a win in his initial heat at the Vissla International Surfing Association World Junior Championships in Ecuador. Go Monty!
Hope all is well and those of you who could make it down to comp 1 had heaps of fun. Laurie Miller (thanks Lozza!) has sent through some nice shots of the action so check out the Southend Facebook page when you get a chance to see if you're there. All results of comp 1 are up here on the web site too and the final 10 remaining badge numbers for the Southend 100 Club, so if you've said you're going to grab a number this year – now's your chance before they're gone until 2015.
Hope to see you representing on Saturday at Bondi peeps!!