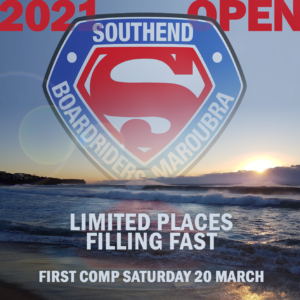 Hey everyone, hope you're all psyched about the fast approaching season with us. We have a big and exciting year ahead after last year's amazing 2020 COVID comp season. We have numerous new sponsors who have jumped on to support the club throughout the year in various ways.
To start, LIVEHEATS is up and running so get in quick to register as divisions are capped and are already filling up. Our liveheats sponsor in 2021 is thanks to ProAccess Painting & Remedial, Sydney's premier specialists in rope access and building remedial works. We've had a heap of interest in new membership already so sign up sooner than later to avoid being disappointed.
Our first comp is on Saturday 20 March and followed on every 3rd Saturday of the month. Dates are locked in and published on the Southend web site. Comp number 1, for 2021 is brought to you by Little Warriors Mobile Gym, the funnest Mobile Ninja Warriors gym for participant's of all ages, especially school classes from kindergarten to year 6. The Little Warriors program is based on gymnastics and is delivered by highly trained coaches on an awesome kit of tumbling mats, beams, bars, rings, tramps, ropes and more.
This year will run similar to last year but with some slight tweaks;
We still have to be fully COVID safe and social distance but it's been relaxed significantly so we're almost back to normality. We have registered our COVID plans with the state government and will let you know the details closer to each comp if there's any specific restrictions.
Micros focus in 2021 is on coaching and development with aims to introduce our young grommet surfers to the world of surfing comps and surfing with buddies in a friendly and encouraging environment. Parents, we need to have you around to assist in water safety and wrangling the groms on the day, so please plan to spend an hour or two at the beach when the Micro's are surfing.
To all legendary women surfers, past, present and future members we are behind you, and our initiative in 2021 is putting up equal prize money for the open women and open men's divisions, and have a couple other incentives to surf too. We're aiming to field and develop our girls and women's divisions to be the strongest going and will have an orientation session the week before Comp 1 to go over the comp format. The comp season is a great way to hone your skills and get some time in the water with only a few other surfers out there.
Ladies and gentlemen, you have been asking for it and we are delivering… the Paul Baxter Shield is back to Maroubra Beach this year. Stay tuned for more info later in the year.
Last year we had a very special day on the last comp dedicating it to Archie Perkins and Hearts4Arch. We have spoken to the Perkins family and they're stoked to have another comp dedicated to Archie the Hearts4Arch charity in 2021.
To all our grom surfers in Cadets and Juniors you guys will be very much the same as last year and we are once again heavily focused on getting the best surfing out you. We'll be investing in getting you to become the best surfers the beach has seen and will support your surfing with clinics and coaching sessions because you are the future of the beach.To the mums and dads you can use your active kid vouchers when signing up your groms on liveheats.
Open mens will be the same as last year and from what we saw in 2020, we're expecting that ridiculously high performance from you guys again. There will be prize money for each comp to get you fired up again for the bra bragging rights.
We look forward to another great year with you all and can't wait to see you at the first comp on March 20. Any questions please don't hesitate to contact us and follow on the socials for updates.
Regards,
Richie Fairbairn
El President