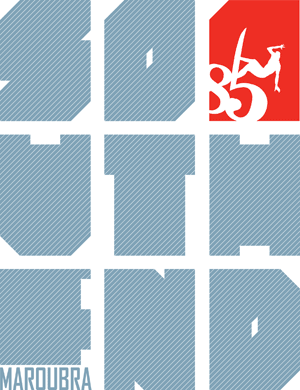 The rego day for the 2013 season for Southend Boardriders is on this coming Saturday March 16 at 9am on the grass in front of the South Maroubra Surf Club. We'll have a bacon and egg brekky happening as well, so fill out your
membership form and bring it down to throw your hat in the ring for this season; (you can also pay your membership online if you're new-skool enough).
We will have the first lot of the new 2013 members t-shirts there for all of the early-birds as well as the new fancy-dancy Southend trailer thanks largely to Randwick Council and AAMI insurance.
At around midday – we will also be drawing the first Southend 100 Club prize for 2013 – so one of the lucky peeps who has signed up for the 100 Club this year by Saturday will be getting $100 cash straight back in their sky rocket. Numbers are still available for purchase on the web site at http://southendboardriders.com.au/purchase/100-club-numbers/ . Last year there were 12 different winners sharing in over $4000 in cash prizes (including a $750 and a $1500.00 major cash draw which last year was won
by Matt O'Reilly at the exclusive 100 club soirée at the Rocks)
Key 2013 dates are listed and updated on this site; comp number 1 is on March 23; for all the latest info, news and updates, keep an eye on this web site and the Southend Facebook page