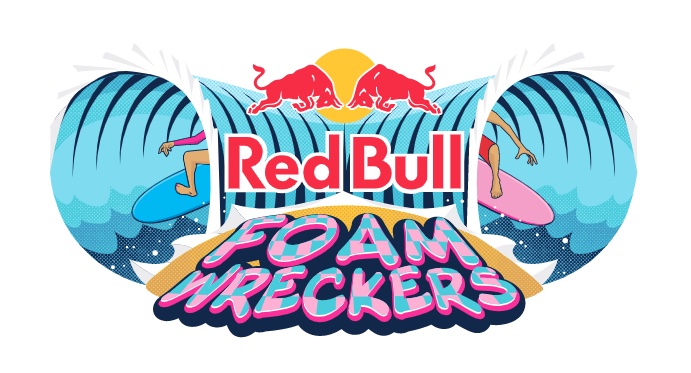 The anti-surf-contest where only soft-boards are allowed and anyone can win. 
Minimal rules and maximum fun, just bring yourself and some friends!
EVENT INFO:
The Red Bull Foam Wreckers, the anti-surf contest has one very simple requirement: you must ride a soft-top (foamie) surfboard. That's pretty much it, the rest is up to you! Catch as many waves as you want, and ride them however you'd like, your goal is to have more fun than everybody else! We've even partnered with Mick Fanning & Catch Surf to provide soft boards for you to use, so all you need to bring down to the beach on event day is yourself.
Before your "heat" you will spin the "Wheel of Shred" to determine which soft-board model you're going to RIP on. You'll paddle out with up to 8 of your closest (new) friends all on different soft-boards and proceed to stake your claim as the most "unique" soft-board surfer!
You never know what our "professional" judges might be looking for, they all have their personal preferences that they'll share before you paddle out, buttttt to help you practice here's some inspiration…
There's some amazing prizes up for grabs at Red Bull Foam Wreckers with first, second and third place getters all receiving a customised Mick Fanning soft-tops. First place also scores a World Surf League VIP experience for them and a friend to the Margaret River Pro in 2022. You've gota be in it to win it.
To enter go to: https://surfingaustralia.justgo.com/workbench/public/Events?ref=A9EE591CDD4E5AB9782768688221D8FB74E108E3
For more information on Red Bull Foam Wreckers head here
EVENT RULES:
You must be 16 years or older to compete
You can only enter the event once

All surfers must contain a Surfing NSW membership. Thanks to our friends at Red Bull they are kindly cover all competitors memberships.

All participants must show ID
All participants must read and agree to the T&Cs to enter the event.
You must wear a Red Bull Foam Wreckers rash vest at all times when competing
You must use the soft board that you are issued with from spinning the wheel of shred.
There are no re spins, the board you are issued with is final.
Surfers cannot swap boards with other participants.
Surfers will not purposefully obstruct other participants in the water.
All surfers will show good sportsmanship at all times.
All surfers will respect the judges, their score and word is final.