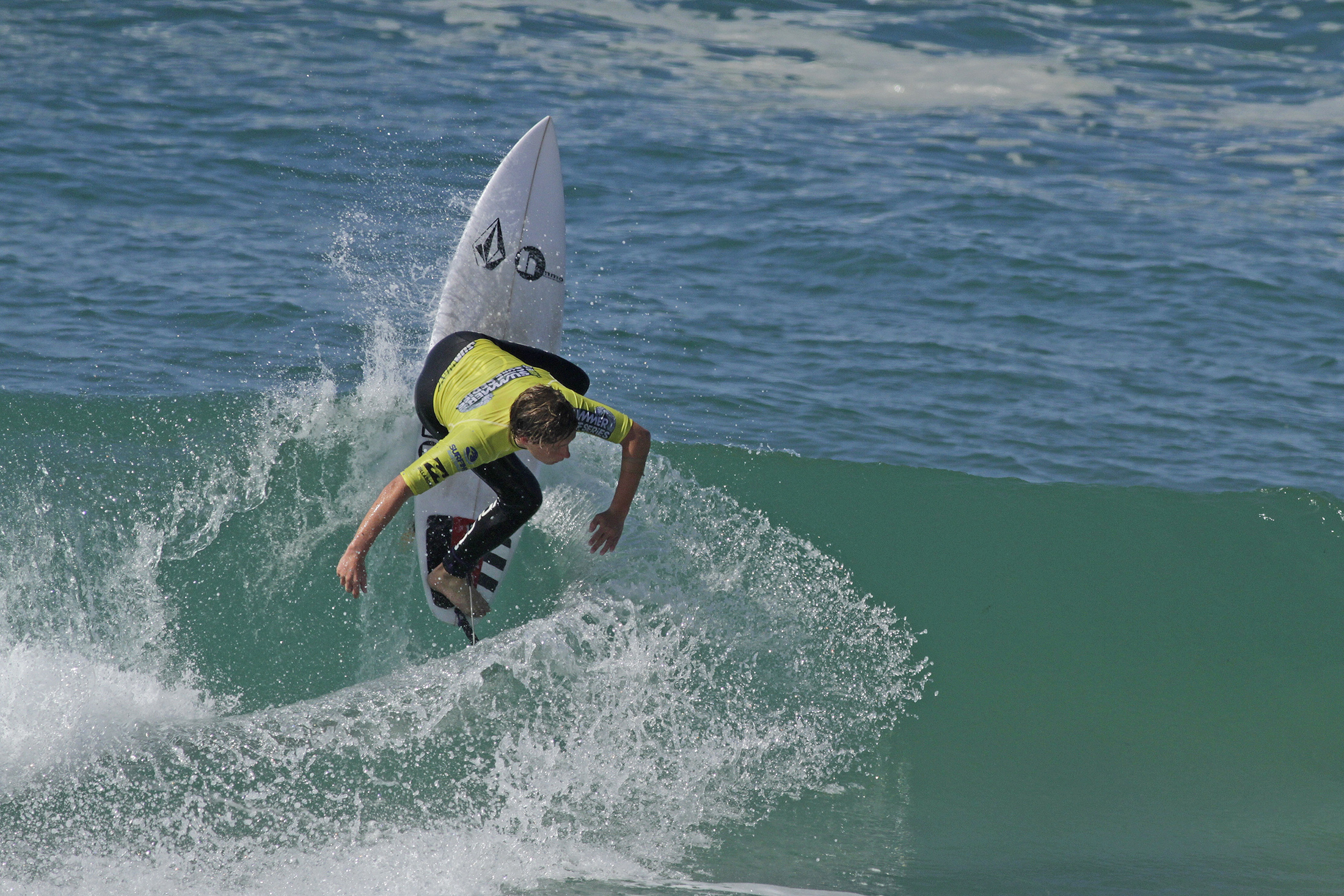 BAR BEACH, NEWCASTLE (Sunday, 28 September 2014): Four new Subway® Summer Surf Series champions were decided today in pumping two-to-three foot waves at Bar Beach.
Macy Callaghan (Avoca, NSW) snatched her second Subway® Summer Surf Series title in as many events, successfully taking a win in the Under-16 Girls. The Central Coast natural-footer used her deadly backhand attack to lock in a solid heat total of 17.1 (out of a possible 20 points), which left her closest opponent Alysse Cooper (Queenscliff, NSW) requiring a 9.44 wave score to knock Callaghan from the top spot. This victory is the latest in a string of recent final appearances for Callaghan, which has included a victory in the 2014 NRMA NSW Junior State Titles and a third place finish at the Open Surfmasters Titles at the 2014 Australian Surf Festival in Coffs Harbour.
Despite scoring an interference in the Under-16 Boys semi-final, Sandon Whittaker (Avoca, NSW) was able to narrowly escape elimination and refocus in the Under-16 Boys final and nab the win with a solid 16.83 heat total. Consequently, the scoreline left all of Whittaker's fellow finalists chasing solid two wave totals to snatch the win from him.
In the Under-18 Girls final, Paris Whittaker (Caringbah, NSW), managed to muster up some last minute heroics to sneak past Kirra-Belle Olsson (Copacabana, NSW) who held down the lead for the first 19 minutes of the heat. Whittaker linked together a chain of solid backhand cracks to lock in a 7.67 wave score (out of a possible 10 points), which gave her the edge over Olsson and took the victory.
The Under-18 Boys final saw some of the most exciting surfing of the entire event with all finalists locking in solid scores for a range of aerials and massive power turns. However, when the final hooter sounded it was Jared Hickel (Cronulla, NSW) who managed to bag his second Subway® Summer Surf Series title from as many events. Despite local surfer Jackson Baker (Merewether, NSW) posting a 9.17 wave score and Jackson Giles (Matraville, NSW) locking in a near perfect 9.67, Hickel was able to keep his opposition at arms length on the strength of a 16.40 heat total. Hickel synced his dynamite repertoire with Bar Beach's punchy lefthanders, which allowed him to perform a chain of critical rail turns and snaps to take the win.
Samson Coulter (Balgowlah) took out the Subway® Summer Surf Series Expression Session for a solid backside air.
Event three of the Subway® Summer Surf Series is expected to kick off on Queensland's Sunshine Coast from October 25 – 26, 2014.
The main base for second event of the Subway® Summer Surf Series was Merewether or Newcastle Beach with backup locations of Dixon Park, Bar Beach and Nobbys.
Organised by Surfing Australia and proudly supported by Billabong, the 13-event series will be held around Australia this summer showcasing the country's best male and female surfers in the under 16 and 18 age divisions. Each event is expected to attract as many as 100 surfers vying for the top honour.
The new series was created to fill a competition void which exists at a crucial point in the development of Australia's leading junior surfers. It represents an important link in the 'pathway to the podium' developed by Surfing Australia, with surfers now able to progress from the VEGEMITE SurfGroms program, onto the Wahu Surfer Groms Comps, into the Subway® Summer Surf Series, followed by the Original Source Australian Boardriders Battle.
The Subway® Summer Surf Series will help young Australians continue to develop their passion for surfing, whether it be professionally or recreationally and carry on to enjoy a lifetime of surfing.
Ambassadors for the Subway® Summer Surf Series are ASP World Tour competitor and 2012 World Champion Joel Parkinson and leading ASP World Tour female competitor Laura Enever.
The male and female winners from the U/18 divisions of each event in the series will be invited to attend a three-day Subway® Surf Camp at the Hurley Surfing Australia High Performance Centre at Casuarina. The camp, conducted by Australia's leading surf coaches, aims to provide participants with the assistance and training they need to make the transition from surfer to professional athlete.
The Subway Summer Surf Series is proudly supported by Billabong, Surfing Australia and Surfing NSW.
RESULTS:
Under-18 Boys
1 – Jared Hickle (Cronulla, NSW)
2 – Jackson Baker (Merewether, NSW)
3 – Jackson Giles (Matraville, NSW)
4 – Reef Doig (Burleigh Waters, Qld)
Under-18 Girls
1 – Paris Whittaker (Caringbah, NSW)
2 – Kirra-Belle Olsson (Copacabana, NSW)
3 – Alyssa Lock (Tweed Heads, NSW)
4 –
Danielle Hancock (Nords Wharf, NSW)
Under-16 Girls
1 – Macy Callaghan (Avoca, NSW)
2 – Alysse Cooper (Queenscliff, NSW)
3 – Alyssa Lock (Tweed Heads, NSW)
4 – Sophie Fletcher (Cape Woolamai, Vic)
Under-16 Boys
1 – Sandon Whittaker (Avoca, NSW)
2 – Darcy Crump (Avalon, NSW)
3 – Samson Coulter (Balgowlah, NSW)
4 – Ben Hucker (Long Jetty, NSW)
#subwaysummersurfseries
SUBWAY® SUMMER SURF SERIES EVENT CALENDAR – 2014/15:
EVENT 1 – Dee Why, NSW – September 13-14, 2014
EVENT 2 – Newcastle Beach, NSW – September 27 – 28, 2014
EVENT 3 – Sunshine Coast, QLD – October 25 – 26, 2014
EVENT 4 – Torquay, VIC – November 1 – 2, 2014
EVENT 5 – Kiama, NSW – November 22-23, 2014
EVENT 6 – Clifton, TAS – December 13, 2014
EVENT 7 – Gold Coast, QLD – January 3 – 4, 2015
EVENT 8 – Phillip Island, VIC – January 17 -18, 2015
EVENT 9 – Margaret River, WA – January 31 – February 1, 2015
EVENT 10 – Victor Harbor, SA – February 14 – 15, 2015
EVENT 11 – Cronulla, NSW – March 7 – 8, 2015
EVENT 12 – Trigg, WA – March 14 -15, 2015
EVENT 13 – Yamba, NSW – March 21 – 22, 2015
To enter the Subway® Summer Surf Series, visit www.surfingnsw.com