After quite a disruptive season with a few comp date changes and waves that for most comps either closed the beach or didn't arrive at all, we are now at the tail end with the final Southend point score on this Saturday October 20. At this stage conditions are looking pretty good with an east swell running and north-west winds and this wet weather will have cleared by then too.
Parent assist micros division sign in at the beach by 10am and we'll get you cracking straight away with an aim to have you back up to main tents in time for lunch.
Juniors will be the first heats in the water around 7.15am. The Comp is open now for registrations at https://liveheats.com/southendboardriders so get your name down and let's make this final comp of the year a bloody good one!
The end of season awards evening is from 4pm on Saturday November 3 at South Maroubra Surf Club so the grommets can all run around like mad and have a surf while we run around getting things set up. As usual there will be tunes, food, drinks and prizes, so make sure to pencil November 3 into your phone now.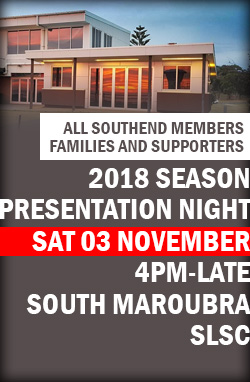 And on a final note thanks to those of you that came down to Malabar last Sunday to remember the locals whose lives were cut short in the Bali bombings of 2002. The weather held out and it was great to see some old and familiar faces again and to see the young kids running around and having a surf out at Kungi rights. Thank you Randwick Council and the Juniors at Malabar for making the day happen!